San Francisco Oriental Rug Cleaning
As one of the premier Oriental rug collecting centers of the world - rivaling Munich, Milan and London - San Francisco was always in need of an Oriental rug cleaning and restoration studio that could meet its needs. At the behest of our friends, Arky and Ginger Robins of Baktiari Gallery in Pacific Heights, and Richard Tracy Shaw, who was retiring from the field of restoration - Talisman assumed the hand cleaning accounts of Gordon Scott's Turko-Persian Oriental Rug Company (now dissolved), which had been a fixture of San Francisco since 1946. Thus in Jan. of 1980 we began in business with eight Bay Area Oriental rug galleries as clients.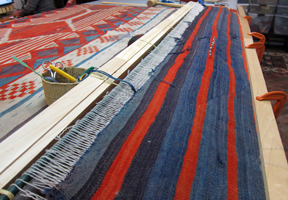 In order to provide San Francisco with a clear alternative to the primitive - folklore based - techniques of cleaning that were prevalent at the time, Talisman built its knowledge and skills from the base up. Eschewing all connections with commercial cleaning, we joined museum and textile associations and learned from primary published research. Often we conferred personally with textile and surfactant scientists such as those at Shell Research Labs in Houston, CSIRO in Australia, Manfred Wentz at the University of Wisconsin (Manfred devised anonymously the stain cleaning chart for the USDA that has since become the universal standard), Milton Rosen (father of surfactant science), etc. Museum textile conservators were just beginning to establish a more firm scientific foundation for their techniques, and we always found a ready and willing collaboration. Conservators Jane Hutchins of Merrimack Valley Textile Museum in Mass., Nobuku Kajitani of the Metropolitan Museum and Mary Ballard of the Smithsonian were particularly helpful.
Confidentiality prohibits us from mentioning specific private clients. However, our work ranges from European and Oriental rugs in large estates to decorative throw rugs and floor coverings adorning homes throughout the Bay area. Until they relocated, we cared for the extensive Oriental rug collections of the San Francisco world headquarters of Bank of America and Thomas Weizel's Montgomery Securities in the Transamerica building. We have cleaned, out of San Francisco collections, both rugs and textiles that have achieved record prices at public auction.
Although museums undertake their own restoration and conservation, during their remodeling transition, Talisman worked closely with conservators from the San Francisco Asian Art Museum and the De Young Museum to clean items from both collections. This work is acknowledged in the De Young's publication " Between the Black Desert and the Red: Turkmen Carpets from the Wiedersperg Collection."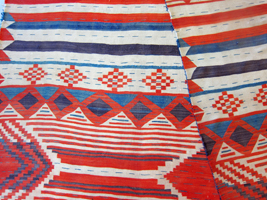 Talisman supported the 1990 ICOC - International Conference on Oriental Rugs - in San Francisco by, among other things, setting up looms and demonstrating Oriental rug restoration. In 2000, we delivered a presentation on Oriental rug preservation to the San Francisco meeting of the ACOR - the American Conference on Oriental Rugs. In February of every year, the annual San Francisco Art and Antique Show and the Tribal Art (and Oriental rug) Show at Fort Mason both create an ample opportunity to view our work.
For more detailed information, see our References page.
It is important to emphasize that we bring a great deal of knowledge and experience to every project that we undertake. Modern floor coverings and designer rugs have their own unique issues that benefit from our expertise. Considering that Talisman's rates are low and competitive, the choice for rug cleaning and restoration is clear.
No project is too small for our care