Cleaning And Restoration of Oriental Rugs
Oriental Rug Restoration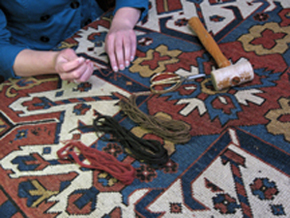 Talisman Oriental Rug Cleaning offers repair and restoration for damage to rugs due to aging, accident or wear. Yarns, colors and techniques are matched - with custom dyeing when necessary. Due to the non-standardized production of modern rugs, we continually find new situations and materials that call for new approaches and unique solutions to restoration. Rug restoration is traditionally a utilitarian craft. However, in Talisman's hands this skill has been elevated both to an art and a science. The repair and restoration of Oriental rugs - both ancient and modern - benefits greatly from Talisman's long experience and unmatched expertise.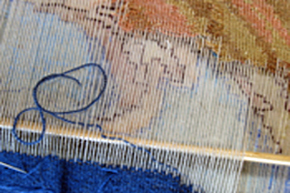 At Talisman, traditional reweaving and repair techniques have been updated by modern conservation science. Museum standards governing material choice and reversibility are carefully observed. Rugs are prepared for floor use, display or storage utilizing archival materials. Rugs restored by Talisman are found in collections throughout the world.

Oriental Rug Cleaning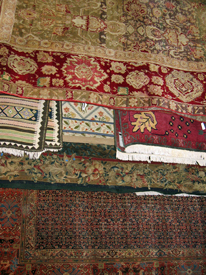 The essence of cleaning is the minimization of risk - while thoroughly removing all soil. Talisman emphasizes cultural and scientific knowledge, careful analysis and individualized strategies in order to create reliable step-by-step approaches to cleaning Oriental rugs. Talisman does not use washing machines, carpet steam cleaning or machine brushing. All cleaning is done exclusively by hand. Everyone is welcome to tour our studio and to view and discuss our work.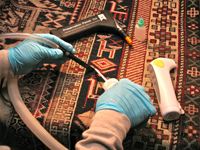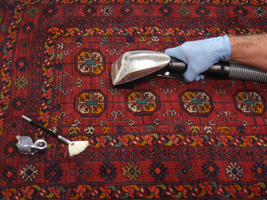 Talisman is not limited by a single technique or "special" process. We draw from a full spectrum of techniques based on today's best science. This is necessary in order to address the unique issues encountered in each situation. We often employ the term "conservation" because the aim of cleaning is to enhance, not only the appearance, but also the preservation of the rug and its innate values. Insect eradication, blocking, pads, etc. are also provided.
No project is too small for our care